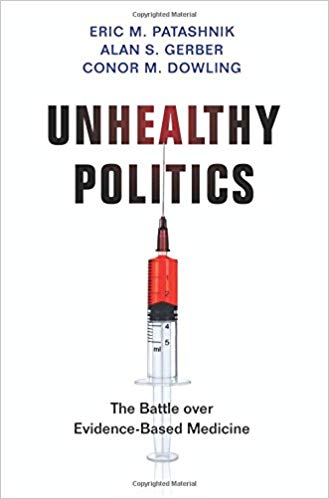 Unhealthy Politics: The Battle over Evidence-Based Medicine
The U.S. medical system is touted as the most advanced in the world, yet many common treatments are not based on sound science. Treatments can go into widespread use before they are rigorously evaluated, and every year patients are harmed because they receive too many procedures—and too few treatments that really work. Unhealthy Politics sheds new light on why the government's response to this troubling situation has been so inadequate, and why efforts to improve the evidence base of U.S. medicine continue to cause so much political controversy and public trepidation.
The book shows how the government's efforts to promote evidence-based medicine have become mired in partisan debates. It also proposes sensible solutions that can lead to better, more efficient health care for all of us. 
Unhealthy Politics offers vital insights not only into health policy but also into the limits of science, expertise, and professionalism as political foundations for pragmatic problem solving in American democracy.
Eric M. Patashnik is Julis-Rabinowitz Professor of Public Policy, Professor of Political Science, and Director of the Master of Public Affairs program at Brown University. He is also is the editor of the Journal of Health Politics, Policy and Law as well as Nonresident Senior Fellow at the Brookings Institution and a Fellow of the National Academy of Public Administration.