Lunch with a Leader: GLORIA MOLINA
Conversations about Governance, Policy, and Leadership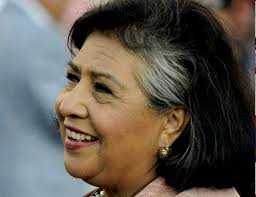 Tuesday, September 22, 2015
Noon to 1:30pm
University Park Campus
Widney Alumni House 
Gloria Molina was first elected to office in 1982 as State Assemblywoman. In 1987, she was elected to the LA City Council where she served until 1991 when she was elected to the LA County Board of Supervisors.  Molina is the first Latina in history to be elected to the California State Legislature, the Los Angeles City Council, and the Los Angeles County Board of Supervisors.  She counts as one of her significant achievements, her involvement with the Mothers of East Los Angeles, a group formed to organize against a proposed plan to build a prison in East LA. 
Join us as we hear from one of LA's most groundbreaking and iconic leaders.
Lunch with a Leader provides students, faculty, and members of the public the opportunity to hear ideas from local, state, and national leaders, share their own ideas, and gain inspiration for effective governance in a more intimate and informal setting.