Bedrosian Director is founding editor of Journal of Political Institutions and Political Economy – new in 2020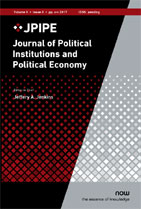 Jeffery A. Jenkins, Provost Professor of Public Policy, Political Science, and Law, Bedrosian Chair of Governance and the Public Enterprise, Director, Bedrosian Center, and Director, PIPE Collaborative, has been announced as the founding editor-in-chief of the Journal of Political Institutions and Political Economy with first issues releasing in 2020.
Jenkins holds a PhD in political science from the University of Illinois at Urbana-Champaign and an MS in mathematical methods for the social sciences from Northwestern University. Before joining the faculty at USC Price, Jenkins held tenure-stream positions at the University of Virginia, Northwestern University, and Michigan State University.
Much of his work takes a positive political theory (or rational choice) approach, and examines how political actors pursue their interests while being constrained by formal and informal institutional arrangements. His current work involves papers on the ideological content of federal lawmaking in the post-war era and book projects on how civil rights policy has been dealt with in Congress over time and how the Republican Party evolved in the South after the Civil War.
"During my editorship of the The Journal of Politics (beginning in 2015)," Jenkins said, "I've seen paper submissions increase substantially. But journal space has only gone up a small amount. Thus, I've been witness to a lot of excellent research that wasn't making it into the JOP or other top journals. So I felt there was definitely space for a new, high-quality political science journal, and I decided to build one around the twin topics of Political Institutions and Political Economy, which have been the basis of the Collaborative I've been building at the Bedrosian Center."
As editor-in-chief, it is Jenkins' goal to publish cutting-edge work at the intersection of political institutions and political economy. Political institutions means the study of systems of politics and government structures of cooperation which resolve collective-action and coordination problems in society, while political economy is a set of interdisciplinary studies (economics, law, and political scene) to explain how political institutions, the political environment, and the economic system interact and influence each other.
"Now Publishers is honored to be working with Jeff Jenkins and the PIPE Collaborative at the USC Price School of Public Policy to launch this new journal." Zac Rolnik of Now Publishers in a statement about the journal said, "We believe that research in the areas of political economy and political institution helps improve both the functioning of our political institutions and the public policies around these institutions. We are confident that under Jeff's supervision, being based at the Price School and with the PIPE Collaborative network, the new Journal of Political Institutions and Political Economy is well supported and positioned to become an leading source of knowledge in political science."
Joining Jenkins in this endeavor is a well-respected team of Associate Editors: Sean Gailmard (University of California, Berkeley), Jennifer Gandhi (Emory University), John Matsusaka (University of Southern California), and Emily Hencken Ritter (Vanderbilt University).
"In a landscape rich with journals, JPIPE occupies a unique niche," said John Matsusaka. "It provides an outlet for rigorous research, both theoretical and empirical, from economists, political scientists, legal scholars, and other social scientists. I look forward to seeing innovative studies both within traditional disciplines and at the boundaries of multiple disciplines."
The first four issues in 2020 will be special issues with new peer-reviewed work published beginning in 2021. The March issue will focus on the Political Economy of Executive Politics and include work from Jon C. Rogowski (Harvard University), William Howell (University of Chicago), Rachel Augustine Potter (University of Virginia), Sharece Thrower (Vanderbilt University), Patricia Kirkland (Princeton University), and Douglas L. Kriner (Cornell University).
Look for the first issue in March 2020!